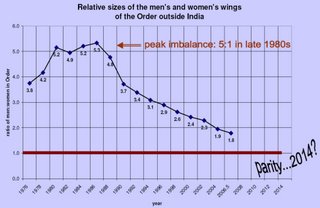 Continuing this week's theme of celebrating the 40th anniversary of the Western Buddhist Order by looking at some of its features and characteristics, today focuses on the balance between men and women in the Order. Today there are just over 500 women Order Members, or Dharmacharinis, and just under 1,000 men, or Dharmacharis, a ratio of .just under 1:2, or 1:1.8 outside India, where men still predominate - though even there there are now 57 Dhammacharinis.
The chart shows how this gender ratio has shifted over the past 30 years – and it demonstrates very strikingly how it has moved towards parity every year without fail for the last 20 years – from a very imbalanced state of over 1:5 women:men in 1987.
This ratio looks set to equalise further over the coming years – one ingredient that will likely help ensure this is the fact that among the Preceptors (senior members of the Order authorised to conduct ordinations), there are currently 51 women compared to 71 men, a significantly higher proportion that would be expected simply from the relative sizes of the two 'wings' of the Order. Among the Chairmen and Chairwomen of the main FWBO centres worldwide, however, there are approximately 35 men and 20 women Chairs - this time showing an almost exactly proportionate number of women taking leading roles.
The Western Buddhist Order has always been unusual amongst Buddhist sanghas in that it has from its inception insisted upon a single and equal ordination for men and women - who are themselves ordained by members of their own gender – a practice whose implications have been fascinatingly analysed in '
Androgyny Among Friends
' by Professor Richard Hayes, himself a member of the Order, in an essay written to provide an alternative theoretical framework to the one articulated by Rita Gross in her well-known
Buddhism After Patriarchy
.
Also likely to assist the continuing move towards parity, last year a new FWBO women's retreat centre opened in Spain, dedicated to providing ideal conditions for women embarking on their long ordination retreats.
Akasavana
, the new centre, joins
Tiratanaloka
, dedicated to training women for ordination, and
Taraloka
, our 'general' retreat centre for women.