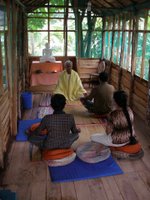 FWBO News is pleased to present this report from Ujukarin and Saddhavira, the two Order Members most involved with the FWBO in Sri Lanka – where we have for many years had a small group, and more recently a retreat centre, Sagaraloka ('Realm of the Ocean').
They say –
"The Sri Lanka FWBO sangha consists of around 15 mitras and one resident OM, and hence relies for its activities at least partly on visits from abroad. Last December and January we saw Ashvajit and Rijumati, both reported earlier in FWBO News; and during the week up to and including 'Medin' Full Moon day (known in the west as Good Friday) Saddhavira toured the country with Ujukarin – new to the Order, but who has been coming twice a year to Sri Lanka for the last five years.
Next to a number of one-to-one meetings with mitras and old and new friends, the main activities of the tour were –
* The normal Colombo Sunday afternoon class upgraded to a full day retreat, on the theme of 'balanced effort'. Attendance around 15 people.
* A day at the new yoga/meditation centre of our friend and mitra Maitri Bandara in Matale, north of Kandy. Attendance something like 40-50 people, partly for the yoga sessions and partly for our talks.
* A 3-night retreat, Thu-Sun, in Sagaraloka retreat centre in Unawatuna near Galle. Attendance on the average 8 people, including one Bhikshu.
Based on all these meetings and events, new invitations are coming in, both for Saddhavira alone and for him with any visiting OM – e.g. for a day retreat in the cool hill country and a longer event at the vihara of the befriended Bhikshu. So watch this space for news of a slowly-growing remote FWBO sangha in an environment very different to that of Western Buddhism …
Labels: Sri Lanka