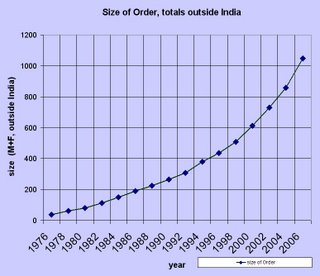 Continuing yesterday's theme of celebrating the Western Buddhist Order as it stands at its 40th birthday, today looks at the growth of the Order over the years.
The first 'batch' of Order Members were ordained in London on 7th April 1968, on which day 12 men and women were ordained by Sangharakshita. Today the Order numbers just under 1,500, not including some 45 who have died at some point during the past 40 years. For the technically minded, rates of growth are running at approximately 6% for the men's wing and 9% for the women's – see tomorrow's report for more details.
The chart illustrates the growth of the Order from approximately 1976 to the present; it only shows Order Members outside India as we do not have such comprehensive data for the 400 members of the Order resident in India.
Not shown are the large numbers of people around the world who have asked for ordination and are preparing to enter the Order: again it is hard to produce exact numbers, but they total at least the same again. Following the request for ordination it typically takes someone between three and five years to enter the Order, a slow process but thorough process of preparation which hopefully ensures that by the time of ordination people are well-grounded in the Dharma and the fundamental principles of the Order – and are well knitted-in to the network of friendships that makes up the Order. The Mitra sangha, those who have declared a more provisional allegiance to our Sangha, is considerably larger again.
Again it is difficult to be exact, but over the 40 years of the Order we estimate that there have been around 140 resignations, a small percentage of the total and something of a tribute to inclusivity, diversity, and flexibility of lifestyle that is possible within the Order. In the words of the 'Threefold Puja' used at FWBO Centres,
"We reverence the Sangha, and aspire to follow it:
The fellowship of those who tread the Way.
As, one by one, we make our own commitment,
An ever-widening circle, the Sangha grows"
.
Sadhu!