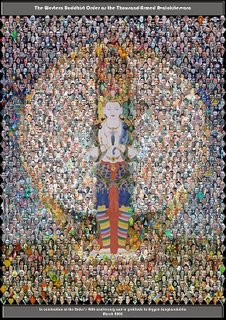 7th April 2008 will mark the fortieth anniversary of the founding of the Western Buddhist Order. In that time it has grown from the original dozen men and women to the present total, just short of 1,500. To celebrate this, FWBO News will be running a series of short articles presenting some statistical snapshots illustrating the breadth and diversity of the Order – which is now, of course, far too large for any one person to know everyone personally.
These will be based on a major survey of the Order which was undertaken during the summer and autumn of 2007; the first systematic survey of the Order since the 'Illustrated Order Register' was produced in 1985 – when the Order numbered barely 300!
Facts and figures, while interesting, do not do justice to the human dimension, so we begin this short series by presenting the '
Order Mosaic
' , a single image containing the face of almost every Order Member, both living and dead, who come together in the image to make up the well-known Buddhist figure of the 'Thousand Armed Avalokitesvara', who has for many years been taken as a symbol for the Order at its highest and best.
The simple beginnings of the Order are well illustrated by an excerpt from Sangharakshita's diary, published in his short book 'The History of My Going for Refuge: Reflections on the Occasion of the Twentieth Anniversary of the Western Buddhist Order' and available on the
FreeBuddhistAudio website
.
Sangharakshita says -
"On Sunday, 7 April 1968, in the course of a ceremony held at Centre House, London, nine men and three women committed themselves to the path of the Buddha by publicly 'taking' the Three Refuges and Ten Precepts from me in the traditional manner. In the terse phrases of the diary which I kept for the first three and a half months of that year, and which has only recently come to light:
'Arrived at Centre House at 10.15. Found nothing ready. Cleared and arranged room, set up shrine etc. People started coming, including bhikkhus. Started at 11.15. Welcome by Jack [Austin]. Had lunch with bhikkhus and Jack while Mike Rogers conducted first meditation. Emile [Boin] very worried, as Indians who had undertaken to provide lunch did not turn up until very late. At 12 o'clock spoke on `The Idea of the Western Buddhist Order and the Upasaka Ordination'. Then, while others were having lunch, spoke to the press. Many photographs taken. Guided group discussion. Meditation. Tea. More press people and more photographs. At 5.30 spoke on `The Bodhisattva Vow'. At 7 o'clock conducted ordination ceremony, which lasted till 8.15. Mike Ricketts, Mike Rogers, Sara [Boin], Emile [Boin], Terry O'Regan, Stephen [Parr], Marghareta [Kahn], Geoffrey [Webster], John Hipkin, Roy Brewer, Penny [Neild-Smith], and David Waddell received their [public] ordinations. Everything went off very smoothly and successfully. All most pleased'".
Coming soon –
* The growth of the Order
* Men and women in the Order
* The Order's geographical spread
* Changing age profiles in the Order
* Patterns of life and work
and more…
Labels: Order events, Survey, WBO