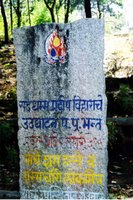 FWBO News is pleased to announce the slightly belated news of five women's ordinations in India. On 10th of February 2008 there were Dhammacharini Ordinations at TBMSG's Saddhamma Pradipa retreat centre at Bhaja in India. Five women were ordained.
The names are as follows:-
1) Usha Sonone from Aurangabad is now Jayadipa, 'Victorious Light' or 'Light of Victory'.
2) Usha Kedar from Ulhasnagar is now Dayapushpa, 'She who has a/the flower of kindness'
3) Vijaya Kamble from Thane is now Ratnashri, 'She who is/has the radiance/lustre/light of a Jewel', or, 'Jewel Radiance/Lustre/Light'.
Privately ordained by Jnanasuri.
4) Sujata Gaikawad from Ulhasnagar is now Taranvita, 'Accompanied by Tara'.
5) Rekha Gajarmal from Thane is now Taradatta, 'Protected by Tara'.
Privately ordained by Vajrasuri.
The public preceptor for all was Karunamaya, who says "Apologies for the late announcement of these names".
Sadhu!
Labels: India, Ordination, women