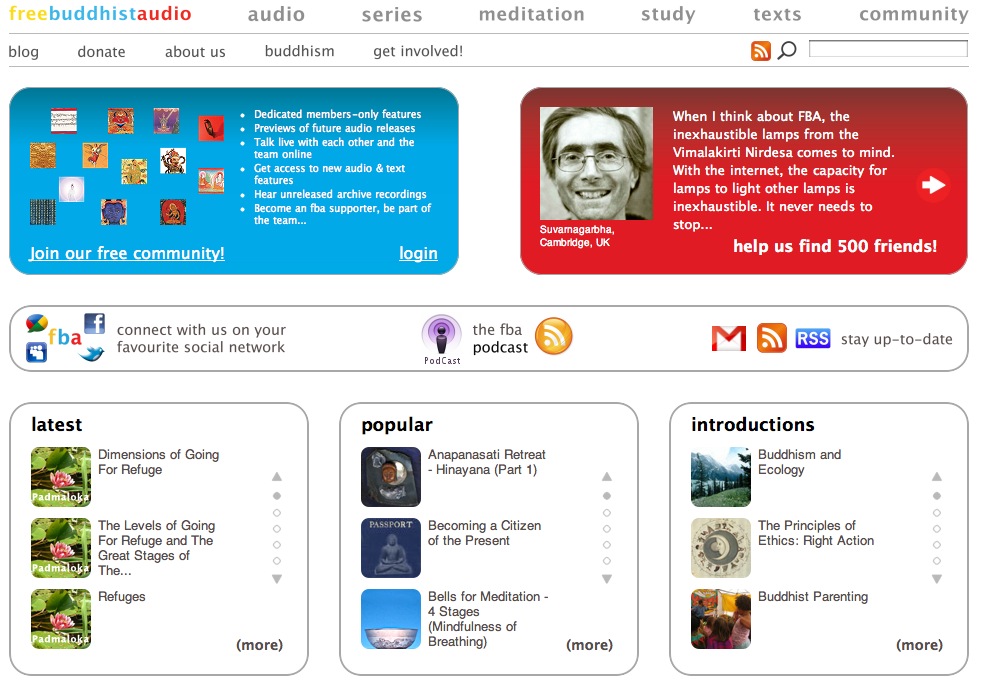 Welcome to the news from
Free
Buddhist
Audio
, the free download, podcast and streaming service from the Dharmachakra audio and text archives. To receive more regular updates on the site, you can always
subscribe
to our own blog.
Well, after many months of work, we are rather thrilled today to be able to offer Triratna News followers
a first sneak peak
at our completely re-imagined version of Free Buddhist Audio, which is due to launch at the end of June.
FBA is now three years old, and in that time it has become an amazing online resource for Buddhists all over the world. By the end of 2010, we will have distributed over
one million
Dharma talks! To put that in perspective, when we started out as a tape company we distributed a few thousand tapes a year at most...
But we didn't want to rest on our laurels! The internet has changed a great deal in those three years since we first appeared online, so we have completely re-thought the site, and re-designed it from the ground up to make sure it's fit for the web as it is likely to develop over the next three years. That means putting our user community right at the heart of what we do in our new
Community section
and through our developing
social network presence
. The Dharma is still the star of the show – but it's the Dharma as practiced by all of you and meaningful in your lives.
You can start taking part now, if you like, by coming and playing and leaving feedback for us on this
special blog page
(all encouragement much appreciated!). We are really excited to hear what you think!
Watch this space for more news of new features as we roll them out in the next wee while...
***

ps. The new site has been designed to enable a free service to be kept in place for all. We are now entirely dependent on our community of users for the funds required to maintain and develop FBA. To help us keep going, please think about making a regular or one-off donation.

Many thanks!