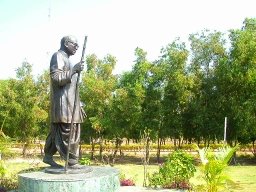 Another report has just come in of further conversions in India, this time at TBMSG's Nagaloka centre.
Lokesvara writes:
Another group conversion took place later today back at Nagaloka, the FWBO/TBMSG retreat centre out on the Kamptee road to the north of the city.
Around 100 men and women from Tamil Nadu - south eastern India - converted. Last night in the cultural programme at the end of the Ambedkar conference they had blown the evening away with some incredible drumming on their simple buffalo skin drums. I sat there thinking "I want to go to their party - wherever it is!" Today they stood in the centre of the marquee and went for refuge, witnessed from the main stage by Buddhists from all over the world and many different traditions, who all gave their blessing. It was really a very moving event, not just their conversion but this witnessing of it by all these different schools and traditions, Theravada, Tibetan, Chinese, Korean . . .
Labels: India