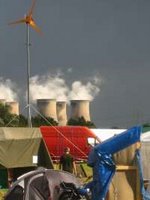 There was a significant Buddhist presence at last week's '
Camp for Climate Action
', which culminated in a nonviolent protest against the Drax coal-fired power station in Yorkshire, UK.
There were a number of FWBO people at the camp, including Guhyapati, Maitrisara, Vidyasuri, Samagita, Padmakara, Akuppa and others. Their contribution to the camp ranged from taking part in discussions about the relationship between faith and climate change; giving shoulder massages; being part of the legal support team for the protest; making biscuits; offering trauma support; communicating with power station employees; contributing to a pre-protest ritual; as well as taking part in the nonviolent direct action itself.
While the protest did not achieve its symbolic aim of closing the plant down, it did succeed in attracting widespread media coverage and in highlighting the urgency of the issue. The power station is the biggest coal-fired power station in Europe, and the largest emitter of carbon dioxide in the UK. Despite firm scientific evidence about its role in bringing about dangerous climate change, the UK is presently increasing its reliance on coal.
Labels: engaged buddhism