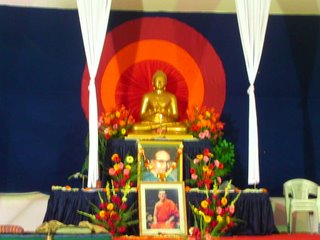 This weekend in India sees the start of our second large 'Dhammakranti' retreat this year.
It's massive – they are expecting anything up to 4,000 people – and represents a major leap forwards – and a substantial risk – by the team. It's being held at Bodh Gaya, in the remote north-eastern state of Bihar, always a difficult place to do business and far away from TBMSG's 'heartland' in central Maharashtra. Besides the obvious Buddhist connection, they chose Bodh Gaya as part of their determination to 'break out' and spread the Dhamma beyond existing Buddhists. The 50th anniversary of Dr. Ambedkar's conversion is the perfect opportunity, and they have seized it.
We hope to publish more-or-less daily reports of the retreat, starting today. The whole project of Dhammakranti ('Dhamma Revolution') , must be one of the most exciting things happening in the FWBO/TBMSG network, we hope these reports will give at least a small flavour of that.
Shortly after the retreat they are expecting many thousands of people from other communities to convert to Buddhism; these mass conversions will be in Nagpur and the Dhammakranti team are appealing for funds to assist the new Buddhists. Students of Ambedkar will remember his deep disappointment at the lack of response from the wider Buddhist world when he converted - along with 380,000 followers – in 1956. Let us do better this time! Watch this space for further details…
Report from Santosh, member of the Dhammakranti team, presently in Bodh Gaya, Bihar. Dated 22/9/06.
Dear Lokabandhu,

So nice to read u. I would love to write u every day if time allows me.

Now I am in Bodh Gaya, more than 400 participants are turned up and people are still arriving. All the team members are working hard for the retreat. We are going to begin this retreat with welcome talk and introduction of the delegates. Just before 35 minutes I had talk with Subhuti, and he is leaving for Bodhgaya today. He will be here early next morning.

We constructed the huge pandal for the shrine like in Nagpur, but because of heavy and continuous raining many of our plannings are in difficult situation. There is a Lotus pond with Buddha's statue outside of tent, also the beautiful flags on the road.

People are very inspired because they are in the Land where Buddha achieved Enlightenment. Lokabandhu there is a very new kind of enthusiasm among the people, And more deep feeling for Babasaheb Ambedkar and for the Buddha's land.

Sorry for my rough typing,

I will be in touch with u. take care. with metta. Santosh

Labels: India