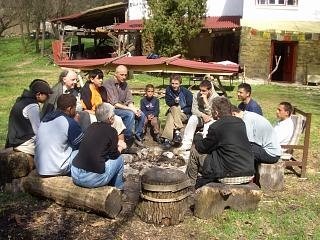 Dharmadhuta returns to Hungary
Readers of FWBO News will remember that in April this year, students of the Dharmadhuta Study Course based in Birmingham went to Hungary to deepen the FWBO's connection with Romany gypsies who had become interested in Dr. Ambedkar and Buddhism. In September five students returned there with Subhuti and Sagaramati. Anne Barrey writes:
Our particular purpose was to run a retreat for the mitras, but also to carry on the connections made during our first trip. We had spent time in class with Subhuti, preparing to undertake this work in a context full of challenges, especially the differences in language and culture and connecting with people who are marginalized and excluded in their own country. We were able to take advantage of our learning from the April trip and the parallels with the movement's work in India.
Although there was some sense of familiarity around the experiences on this second visit, it was as challenging as the first trip had been and very much a practice of 'being in the moment'. We found ourselves located in a village in the north east of the country very near the Ukraine border, seven hours train travel from Budapest. The facility we were accommodated in is a base for a number of community programs, including a kindergarten, computer training, domestic and catering services and accommodation for students and their families. This is also where Tibor (see previous article) hopes to set up another Kis Tigris ('Tiger's Milk' – a phrase used by Dr. Ambedkar to point to the benefits of education – ed.) school for Romany (Gypsy) people in the region.
Another significant difference to the first visit was the gender composition of our group. Due to the ground work of Tibor, Janos and Klari, a teacher at Kis Tigris, and their visits to families, three young gypsy women were able to travel away from home and be a part of this event. In our group of twenty people over the five days, we had eight women and twelve men, radically different to the one lone woman and twenty men the first time around!
The challenge for "the Birmingham group" (as Tibor dubbed us) was letting go of our collective plans and individual aspirations. A clash of cultures it certainly was and the challenge of communication was a big theme of the week. Out of these struggles and frustrations arose the practice of ksanti, much positive work was done on all sides. Differences in language, education, class, life experience and ways of thinking, demanded a real effort to meet one another on some common ground. What emerged from such effort was a lot of good will and some memorable and fun times, playing 'getting to know you' games, acting out stories from the life of the Buddha, doing presentations on a diverse range of subjects, ranging from the caste system in India to the history of Indo-European languages and simply relaxing together, dancing to gypsy music sounding forth from the ghetto blaster or swimming in the river under the hot, hot sun.
Making connections and developing friendships was certainly the most tangible and visible effect of our time in Hungary. As for teaching meditation and sharing the Dharma, it remains to be seen how well we planted our seeds and how effective we can be in tending them. Ten days after departing there, two of our Hungarian gypsy friends, mitras Istvan and Aniko, have arrived in England to spend time with us here and experience sangha in Birmingham. Who knows what might take shape next?
Anne Barrey, a student on the Dharma-Dhuta course at Madhyamaloka
See
http://www.dharmaduta.blogspot.com/
for the Dharmaduta blog.
Labels: engaged buddhism, Hungary