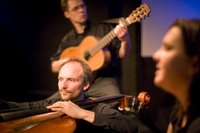 Jnanadhara, one of a dozen Order Members in Dublin, Ireland, writes to say –
"Hi, I'd like to post a item on the FWBO news site about a CD that I've made and a tour that I'm doing in the UK this autumn".
Jnanadhara is one of 'The Pioneers', a small music/theatre group that is touring the UK and New Zealand over the next few months. In their show of the same name, the group's members are telling the story of their ancestors who chose to leave Victorian England and Ireland to settle in the wilderness that would have been New Zealand 150 years ago. On the way they encounter hardship and uncertainty, freedom and love, but most importantly, the prospect of a new beginning full of possibility.
Their website states – "Using original acoustic music based on texts by leading New Zealand poets, plus story-telling and character portrayal, the three musicians bring the poignant, personal journeys to life. The show also incorporates a visually stunning backdrop of New Zealand scenery and images mixed in with rarely seen digitally reproduced archival images of Magic Lantern slides".
Full details of tour dates are available on their
website
or their
MySpace page
which includes several of their songs. A reviewer says "The Pioneers offer a very special experience where music has been woven with theatre and back projection to create a riveting, moving performance". Catch them if you can! The Pioneers' CD is available from their website.
Jnanadhara may already be known to regular readers of FWBO News, thanks to his guest appearance accompanying Kavyasiddhi as she sings '
The Heart Sutra' (by Karuna Carpenter)
on Videosangha.
There are many other musicians, of all types, in the Order, we plan to bring you a partial round-up of them tomorrow. Watch this space…