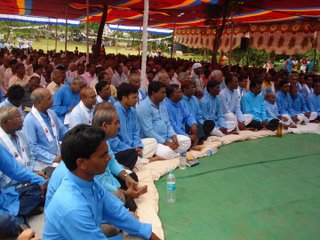 We are delighted to bring you news that thirty men have recently been ordained into the Western Buddhist Order/Trailokya Bauddha Mahasangha at TBMSG's Bordharan Retreat Centre, near Nagpur in India. We can also bring you most – not quite all! – of their new names. The ceremonies took place on 5th Oct, the remaining names will be added to this post as soon as we receive them.
Jinasena Yapa Gemunu (from Sri Lanka) becomes Jinasen (He who has the Victor as Master)
Mandao Dhare becomes Aryasangha (Exalted non-attachment)
Sandeep Shende becomes Nagasambhava (Arisen from Nagas)
Dnyaneshwar Shende becomes Gunaraja (King of Virtues)
Rahul Tamgadge becomes Gunasagara (Virtue-Ocean)
Manoj Sakhare becomes Aryahrdaya (Noble Heart)
C. B. Ogale becomes Revatadhamma (Beauty of Dhamma)
Dharmaraj Sanghavardhan remains Sanghavardhan (One who develops Spiritual Community)
Vijay Veer becomes Amoghabodhi (Infallible Wisdom)
Balchandra Ramteke becomes Satyasila (Virtuous Follower)
Arup Singh becomes Vimaladitya (Sun of Purity)
Bhopal Singh becomes Vimalapriya (Lover of Purity)
K. U. Gaekwad becomes Punyaveer (Hero of Merits)
Sadashiva Waghmare becomes Punyakirti (Fame of Merits)
Deepak Meshram becomes Punyadhara (Protector/Holder of Merits)
Sanghamitra becomes Arunbodhi (Mountain of Bodhi/Wisdom)
Tukaram Gaekwad becomes Amrutsen (Army of Nectar)
Nagasen Maitrak becomes Nagaghosha (Voice of Purity/Wisdom/Truth)
Ramesh Gajbhiye becomes Pademashura
Moreshwar Gedam becomes Jnanodaya
Kishore Wasnik becomes Veerabodhi
Pundalik Ramteke becomes Aryaveer
Nagarjun becomes Nagaratna
Shekhar Bauddha becomes Amrutratna
Priyadarshi becomes Akshobhyavajra
Sanjay becomes Amoghadarshi
Ambadas Thaware becomes Akshobhyacitta
Gharade becomes Bodhipriya
Prakash Ratnadarshi becomes Manjuvadi
Sunil Pate becomes Aryasiddhi
SADHU!
Labels: India, Ordination