Back in June FWBO News reported that Vessantara was embarking on a
three-year retreat
in the mountains of France. He has now gone, but we have recently been alerted to a '
terma
' left by him, and wanted to share this with readers who may be interested.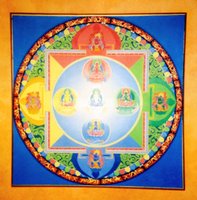 Specifically, his book '
The Five Female Buddhas
'
is available in full on his website. This is a detailed commentary on five pujas, one to each of the Five Female Buddhas. These are mentioned as part of the extended family of figures in the well-known Five Buddha Mandala and appear in many other places in Tibetan Buddhism, for instance in the Tibetan Book of the Dead.
The five pujas were also written by Vessantara and are also available on his website
here
. Of the project as a whole, he says -
"Writing the sadhanas and the pujas was a strange process. There were times when rationally I felt very presumptuous – who was I to be doing such things? Yet at another level it felt very right – as if the figures just needed a channel to communicate themselves, and I happened to be that channel.
"And I decided early on in the process that I needn't worry about the outcome. If there was no spiritual power in the figures then, perhaps after some initial interest, they would die away. But if they spoke to people's spiritual needs, and helped them to engage with the spiritual adventure, then they would find a way to do so despite any imperfections that I might have introduced".
Labels: Authors, publications