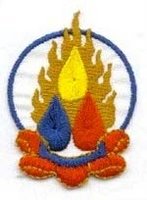 The following men had their Public Ordination into the Western Buddhist Order on Thursday, 23rd October:
Karl Dettmarg becomes DHARMADEVA = The Deva of the Path (Private Preceptor Bodhimitra)
Edwin Bircumshaw becomes PRAJNANATHA = He whose protector is Wisdom (Private Preceptor Jinaraja)
Luke Watson becomes KALYANAMATI = He who has a (spiritually) beautiful, excellent, skilful, auspicious mind or intelligence (Private Preceptor Satyaraja)
The Public Preceptor for all was Saddhaloka, and the ordinations were held at the FWBO's
Padmaloka Retreat Centre
in Norfolk, UK.
Sadhu!
Sadhu!
Labels: Ordination