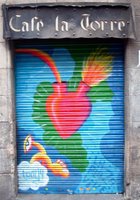 A new FWBO Centre has recently opened in Barcelona. Frank Bergmann, one of their main organisers, contacted FWBO News to say -
"Hi, we're happy to let you know we have finally managed to setup regular meditation classes in Barcelona. It took us several attempts and more then 3 years to convert a good idea into concrete action – but we got there!
"Some facts:
- The new center in Barcelona is an offspring of the AOBO Center in
Valencia
. (The FWBO in Spain is known as the AOBO, 'Los Amigos de la Orden Budista Occidental' as opposed to 'The Friends of the Western Buddhist Order').
- we have a website
www.budismo-barcelona.com
- We currently run classes every 2nd Friday. The schedule for the classes is announced on our website.
- The classes are held in a beautiful space in the heart of Barcelona. The space is used for Yoga classes and other activities during the rest of the week. Our address is Carrer Cirera 6, 08003 Barcelona.
- Classes are taught by
Paramachitta
.
- The language for the classes is Spanish, but there are always English speakers around, so it's no problem for non-Spanish speakers to participate. So come and visit when you're passing Barcelona!
- We don't cover our costs yet. So please spread the word if you know people in Barcelona who might be interested.
- We don't have a good Google-ranking right now, so it would be great if you could tell your webmasters to link to our site. That would help us greatly to attract more participants.
- You can contact us at
info@budismo-barcelona.com
.
- Photos of the new centre and sangha will follow.
"Metta!
"Frank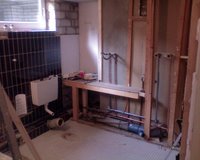 Meanwhile FWBO News brings you this update from Sraddhabandhu, manager of the new Centre in Düsseldorf, Germany. He writes -
"An update of our activities: What would a FWBO centre be like without renovating activities?
"Right, it wouldn't be a proper FWBO centre! So, in Düsseldorf we are renovating our bathroom to install a shower and make it accessible for handicapped people. This is quite expensive, but an investment in the future, because we can then have short urban retreats. As soon as the building work is finished, I will announce our first urban retreat. But this will take some time, as you can see from the photo.
"But we have invested in other things as well. Last year we bought a Flip chart, which is not very exiting. But this year we bought a projector as well, so that Sraddhabandhu can enhance his talks with slide shows a little bit. I guess we are now one of the few centers with a projector. But don't worry, our prime motive is still to communicate the Dharma, not to tickle the senses of our guests with fancy movie shows..."
Labels: Dharmaduta, Spain