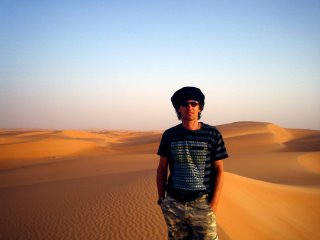 Visiting Africa anytime soon? You might be interested in this report from Kieran Barry, a mitra who has for many years lived at the FWBO's
Vajraloka Meditation Centre
in Wales…
"After six years in the Welsh hills, I have now left Vajraloka and am headed for very different climes.
"Next week I will be moving to Mauritania in West Africa. For those that don't know (most of you I suspect!) Mauritania is located between Morocco (and the disputed Western Sahara) to the north, and Senegal to the south. It is a huge country but is almost all desert with few towns and only four proper roads...I have already driven on three-quarters of them!"I will be living in the capital, Nouakchott, a dusty and largely unprepossessing town where my girlfriend, Alessandra, has been living and working for the last two years. She has been engaged with the United Nations, trying to help democracy to emerge, only to see things stutter as the military took over in a
coup
this September - in fact on the very day I was to buy my ticket!
"Despite this little setback, I am to continue with my plans to set up a yoga school in the desert, called, appropriately enough, '
DesertYoga
'. I have done some teaching out there on previous visits and it seems that people (mostly French ex-pats) seem keen to embrace the physical and spiritual dimensions of yoga. There have also been some requests to teach meditation which I may respond to in time.
"So, the FWBO extends – perhaps! - to include the 'République Islamique de Mauritanie''!
"If anyone finds themselves passing through Nouakchott, please do
get in touch
and come and visit". Kieran Barry.
Labels: africa; yoga