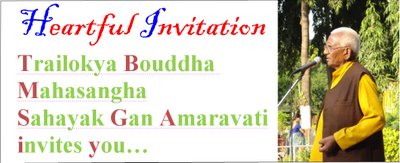 FWBO News has received this invitation, which it is happy to pass on to any readers who may be in India during October.
Amaravati is a town in the very centre of India, near Nagpur, and has for some years had a very active sangha, involved in a great range of social and Dhamma projects. Now the Amaravati Sangha, led by Amitayus, are gearing up for their largest-ever programme, a month long intensive programme of talks and retreats all over their region – which is largely rural and dominated by drought, high bank loans, and low commodity prices... these factors have combined to produce a massive and ongoing tragedy of farmers' suicides - one estimate putting them at 1,500 in the past six months alone...
We hope to bring you more news of their program as it unfolds – in the meantime please also visit their fundraising page on JustGiving:
www.justgiving.com/ashvajit
where they have raised a remarkable UK 4,800 pounds!
Order Member Amitayus from Amaravati writes -
"Jaibhim Namo Bouddhaya.
"
TBMSG AMARAVATI
sangha has organized a
LECTURE SERIES
from 12 October to 22 October and a
JUMBO DHAMMA MEDITATION RETREAT
from 24 October to 31 October 2008. These are part of our ongoing Dhamma and social awareness campaign and the Dhamma Revolution. Chief speaker will be
DHAMMACHARI ASHVAJIT
, a senior order member from the UK having long experience of practicing and teaching dhamma and meditation.
"Inspired and motivated by the work of Dr Babasaheb Ambedkar we will deliver talks at 15 different towns and places around Amaravati, followed by the Jumbo Retreat itself.
"
We are looking you to participate and share your life with the other fellow participants.
They will be coming from variety of backgrounds especially from the farming region which is full of suffering and dominated by the farmer suicide – for the last four years it has been declared as a drought affected district just 150 km from Nagpur and 600 km from Mumbai. You can read about the suicides in Indian media
here
and
here
as well as many other places.
"The participants which will nearly be thousands in numbers including Buddhist, non-Buddhist, youths, farmers, women, and the socially and economically backward and from various geographical backgrounds.
"Your participation in both the rally and retreat will give you the opportunity -
* To visit and see the countryside of India
* To see the social change cause by Dr Ambedkar's Conversion.
* To listen, share, and interact with the local people.
* To respond their needs by sharing your experience of dhamma life.
"This can be a life enriching experience for you and would definitely be inspiring to go
forth. It will be my pleasure to send you the detail schedule programme, transportation assistance, your stay and the financial contribution you will have to bear, please contact me if you are interested.
Do come
Yours with metta
Amitayus
Also please visit and respond at
office:+91 (0)721 266 66 67 cell: +91 (0)9960935276
www.bahujanhitaya.org
Sadhu Amaravati!
Labels: Amaravati, Dharmaduta, India, Maharastra