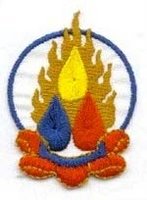 FWBO News is happy to report that on Sunday August 24th Bart Van den Berghe from the FWBO's centre in
Ghent
, Belgium had his Public Ordination. This was the first Western Buddhist Order ordination in Belgium and an occasion for great rejoicing.
He joins Dhammaketu, Arthakusalin, and Tarini in the "Vrienden van de Westerse Boeddhistische Orde", or VWBO (as the FWBO are known in Belgium).
He became UPEKSHADAKA, meaning 'daka possessed with equanimity'.
His private preceptor is Ksantivadin and his public preceptor is
Mahamati.
Labels: Belgium, Ordination