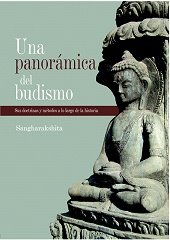 One of Sangharakshita's best-known – and longest - books has just been published in Spanish. The '
Survey of Buddhism
' ('
Una Panoramica del Budismo
' as it is known in Spanish) was first published in 1957, and written when Sangharakshita was only 26 years old, at a time when Buddhism was only just beginning to become known in the West. At well over 500 pages it is a remarkable tour-de-force - and a remarkable feat of translation! The work has stood the test of time, with over 9 editions and numerous reprints in English.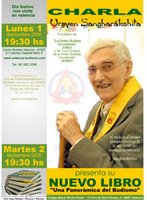 The occasion was celebrated at the FWBO's
Valencia centre
with a special visit by Sangharakshita, fresh from celebrating his 83rd birthday in Birmingham, UK. His visit coincided with their Padmasambhava Day celebrations, including a Padmasambhava Puja.
Spanish-speaking readers will be pleased to know that The FWBO's
Libros Budistas
, also based in Valencia, offer some 48 Dharma books in Spanish for free download.
Labels: Sangharakshita, Spain, Translations