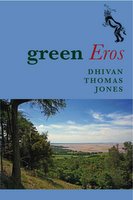 Order member Dhivan, from Cambridge, UK, has just self-published his first novel - 'Green Eros'. He writes -

"GREEN EROS is a novel about love, philosophy and men. Juniper Johnson is living the good life with his girlfriend in a cottage in northern Lancashire. But when he begins studying philosophy at Greyston University, everything starts to change. Splitting up, leaving his home, falling in love and making strong bonds of friendship with fellow philosophers, Juniper finds a new vision of life and love while in exile. Moving among professors, shamans and Buddhist monks, he learns the wisdom he needs to go home."

Dhivan, ordained in 2004, completed a PhD in the philosophy of love at Lancaster University back in 1995, and says he wrote this novel as a way to explore some of the themes he had been thinking about during his philosophical research. Is this the first novel to be published by a member of the Western Buddhist Order?
Green Eros is available via Amazon, or through Dhivan's own website at
www.apuspress.co.uk/
, where it is for sale at £9.95 including postage.