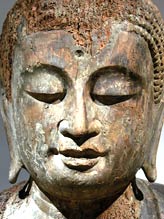 Welcome to the news from
Free
Buddhist
Audio
,
the free download, podcast and streaming service from the Dharmachakra audio and text archives. To receive more regular updates on the site, you can always
subscribe
to our own blog.
This month, there's quite a lot to tell you about! We've been busy changing and improving the site, so here are a few of the things we've been up to...
Updates:


Whenever you see either of these symbols in your web browser's address bar, it means you can subscribe to a special version of the page you're on (a bit like a blog) and get updates whenever we add new content for that particular section – without lifting a finger...
So, it'll work to keep track of titles from a specialised area of the site (eg.
meditation
), or for uploads from any individual centre in our new
community pages
(eg.
Taraloka
). And it's really simple!
All you have to do is click the symbol itself. When the page changes, add it as a 'bookmark' or 'favourite' in your web browser (usually typing 'command-D' will work). And that's it. When we upload a new talk or series, you'll get a little notification in your bookmarks list.
Podcast


If you haven't discovered our free monthly
podcast
yet, then this is a great time to start! Over 10,000 people now subscribe to this service (you can get it easily via
iTunes
), and we've already distributed over 350,000 Dharma talks by podcast since late 2005.
The latest episode has just appeared online, a great talk by Ratnaguna:
'The Early Teachings of the Buddha'
– a splendidly engaging evocation of the fundamentals of Buddhist thought and practice from the recent FWBO International retreat.
Come and give it a whirl!
Two talks by Sangharakshita
Over the last wee while, Sangharakshita has been steadily adding to his already considerable archive of recorded public talks. This week, we are delighted to bring to your attention two of his latest, which are well worth a listen...
'Growing the Spiritual Community'
was also given at the FWBO International retreat, and is a timely exploration of what it's going to take to maintain the Western Buddhist Order and the FWBO as a vibrant and spiritually prospering community.
'Forty Years On – The Six Emphases of the FWBO'
is a pleasing reprise of classic Sangharakshita, with some delightful reminiscences about the early days of the FWBO. The talk was given in Manchester, and marked the 40th anniversary of the founding of our spiritual community.
And finally...
Before we go, we thought it was high time we revisited with you our top 10 chart of most popular downloads. Try them - they're all marvellous!
1.
The Mindfulness of Breathing: Introduction and Guidance
by Kamalashila
2.
Simplicity
by Kamalashila
3.
Buddhism and Quantum Physics
by Jnanavaca
4.
The Mindfulness of Breathing: Short Lead-through
by Kamalashila
5.
Mindfulness for Just About Everything
by Paramabandhu
6.
Tibetan Book of the Dead (Talk 1): The Six Bardo
by Padmavajra
7.
Cutting Away the Old
by Abhaya
8.
Breaking the Mould
by Dhammarati
9.
What Meditation Really Is
by Sangharakshita
10.
Entering the Mandala
by Garava
Labels: Free Buddhist Audio