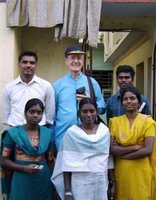 FWBO News has received this report from Amitayus, a leading Order Member in TBMSG's Amaravati sangha, in central Maharastra, India. The Buddhist community in Amaravati has long has a reputation for innovation and dynamism, it looks like they're not resting on their laurels! Their report concludes with an appeal, and we urge readers to log onto the Amaravati appeal website and also pass news of the appeal to their friends and others in the Sangha.
Amitayus says -
"The TBMSG-Bahujan Hitay Amaravati sangha (Maharashtra) has for many years been having regular dhamma and social activities including especially activities planned and designed for youths. We know well that youths should get attracted to the Dhamma as this is a very important part of forming the New Society. As well as this, we run many regular other activities which we feel should be known to the wider sangha , we request you to help us doing this effectively through publishing these events on FWBO TBMSG news.
Amaravati Youth Conference 2008

"At present we wish to inform you of two things. First is the Youth Conference 2008, organised by our Dr. Ambedkar Social and Youth Center in Amaravati. Our aim is to organise Indian youth for self development and to help them so that they can help their people, we have been working with the youth since 1993 and we have supported thousands of youth. Many are now regular practitioners of Dhamma and have become effective social activists.
"Our Youth conference 2008 was held from 26th to 30th May, we accepted 125 participants including men and women especially from slum and rural backgrounds. Dhammachari Amoghasiddhi and Aniruddha explored the various areas of self-development including teachings of Dr Ambedkar, basic Dhamma, and 'secrets of success' using NVC. The organisers are accepting the wishes from the broader sangha worldwide for the success of the event.
'Jumbo Retreat' in October 2008
"Second we wish to inform you that in October 2008 we are planning a big programme of public talks all around Amaravati, followed by our largest retreat. There will be 15 public talks before the retreat, we estimate more than 400 people will be present in small towns and 1000 people at the bigger towns. Those who are inspired may come forwards to participate in our 'Jumbo' retreat which will run from 24 October to 30 October. It will be led by a team of 25 Order Members from the Amaravati area including Chairwoman Dhammacharini Jayamani, Chief Organiser Dhammachari Nagabhadra, and also Dhammachari Ashvajit from the UK. We will be including youths, rural, tribal, and nonbuddhist people: in this way we begin to create the true casteless society.
"This is a very big task for us and our first step is to fundraise for it. We need Indian Rs. 6 lakhs, or UK £8,000 approx. We are planning to raise these funds through door knocking, sponsoring the events , publication and looking for contributions from our international sangha.
"To know more about our work please visit
www.bahujanhitaya.org
, to donate to our appeal please visit
www.justgiving.com/ashvajit
. Thank you".
Labels: Dhammakranti, Dharmaduta, India