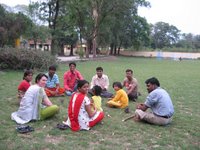 Ann Dennehy
, a mitra from the FWBO's San Francisco Sangha sends us this report of TBMSG's 'National Network of Buddhist Youth' Conference in Dehra Dun, northern India, held June 1-7, 2008.
She writes -
"I have just returned from a week on retreat with India's National Network of Buddhist Youth (
NNBY
) in the hill station of Dehra Dun, in northern India. I worked as part of a team of 4 Trainers - the Indian Order members Kumarjeev and Kamalasri from Nagpur, and Maitriveer Nagarjuna from Delhi, alongside the NNBY Student Leadership Team.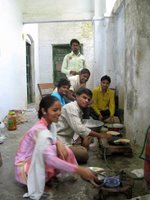 Altogether we were 35 people on the retreat, practicing in an old colonial school building, miraculously transformed for our use by the local Senior Dhammachari Bodhisagar (who had been ordained by Bhante in India in the 1980's) and his tireless wife Sumitra. They turned classrooms into dormitories, food pantries and shower facilities; hallways into kitchen prep stations and a dining area; and a meeting hall into a shrine room and central study space.
"Dehra Dun is green and peaceful, providing a cool break from city heat, and a chance to practice in a lush, serene environment. Our team worked harmoniously, providing opportunities for students to learn meditation, practice English, study the legacy of Dr. Ambedkar, chant, and do pujas. Students established new friendships, shared tasks, played cricket, sang songs, and even danced. Our last night was a diksha, where two students became Buddhists, followed by a cultural evening, which included comedy and a kirtan.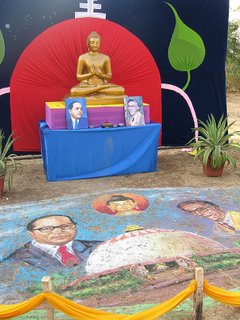 "The primary goal of the NNBY is to establish a network of Buddhist friendships across India, and train up the next generation of young Buddhist leaders. I am satisfied that such connections were created on this retreat.
"Most of the retreatants were first-timers, and as the week came to a close they told me how much they had learned, how their meditation practice had deepened, how they'd made new friendships, and how much more confidence they felt after a week of supported practice.
"Myself, I leave feeling grateful for my deepening friendships with the team, and inspired by the energy, creativity, and curiosity of all the students. May this Sangha continue to thrive".
You can check the NNBY's new website on
www.nnby.org
.
They've also got an internet
fundraising appeal
going, seeking funds for their India-wide youth leaders training programme - you'll find full details on the appeal site.
Meanwhile, a thousand miles south, in Maharastra, there's ambitious plans afoot among the Amaravati sangha for a major Dhamma tour of rural areas this autumn, building in part on their own recent successful Youth Conference - we hope to bring you news of this tomorrow.
Labels: Dhammakranti, India, Youth