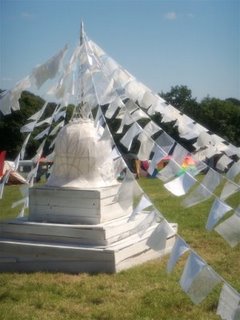 The FWBO's largest event outside India is the annual
Buddhafield Festival
, now in its 13th year and going strong. From 350 in 1996 it's grown to around 2,500 people – small enough to retain the intimacy that's one of its hallmarks, yet large enough to contain an extraordinary diversity of, well, everything!!!
This year they're moving to a beautiful new site just a few miles from the old one on the Devon-Somerset border. They've written to FWBO News to say –"The new site is secluded and peaceful, away from roads, with coppice woodland, and plenty of space. We've been hard at work preparing for this year's Festival – and it's coming up soon! We warmly invite you to join us – and please do tell your friends. It's a great way for them to meet a bunch of Buddhists and get a taste of what we're about".
Here is a sneak preview of some of this year's programme (all included in the ticket price!!):
Kids Area
: AMAZING and varied range of activities for kids - trampolines, dressing up, carnival processing, crafts, bushcraft and nature awareness, storytelling, toddlers' space, daily theatre extravaganza; Teens Space.
Bands
: Gadjo Club (superb Gypsy Balkan Jazz); Seize the Day (protest folk stalwarts); Green Angels (upbeat Breton dance); Vogue Gyratory (Brighton faves, 7 piece funk-reggae); Manjinga 7; Toggy Mess (upbeat Irish folk); Manos Puestas (super-spicy flamenco jazz); a variety of fantastic DJs, including Matt Black of Coldcut (Thurs pm), followed by Cinema
Poetry and art
: Inter-Ference; open mike poetry evening; Poetry Slam; 'The Big Q' play written specially for Buddhafield!; The Buddhafield 'Artery'; carnival costume-making from found natural materials; creativity and poetry-writing; Mr Be, mime, clown and family show; Stilted butterfly walkabout; Marionettas giant puppets.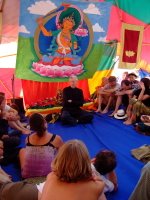 .
Dharma Parlour and meditation:
talks and discussions on Buddhism, speakers from the Western Buddhist Order and other traditions, including Christopher Titmuss. Meditation teaching from FWBO teachers and others. Ceremonies and devotional practice. Network of Engaged Buddhists; Amida Trust, and others.
Workshops
: MASSES of all-day yoga, Tai Chi and Chi Gung. Healing Area, great range of alternative therapies, pay by donation. Dozens of workshops to die for, including Ecstatic Dance with Jewls; 5 Rhythms with Jo Hardy; Brazilian Forro; Indian Classical Dance with yoga/visualisation; Shamanic Trance Dance with Zilia; many more dance workshops; 'Soulful Singing' with Mahasukha; 'Voice as Sacred Instrument'; Tibetan singing bowls; tin whistle, bodhran, drumming; daily Buddhafield Community Rhythm event; 'Work that Reconnects'; Transition Towns; big debate on Climate; Palestine Peace Campaign; Non-violent Communication; Skilful Flirting; Heart-to-Heart tantric workshops; Green babycare on a budget; Shamanic Journeying from Northern Drum….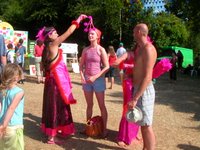 Special Spaces:
the 12 Step Dome; Women's Space; Land and Permaculture; Radical Midwives Space for pregnant women and new mothers; Queer Spirit Space; Crafts Area; Wildheart Medicine Wheel Space; Dzogchen and Big Mind teachings; bushcraft; tracking; fire making; sky-gazing meditation.
Saunas
including Lost Horizon, featuring chillout space and cabaret; cafes including the Buddhafield Café with strolling musicians. And last but not least, wood-fired showers and compost toilets; all power on site from the sun and wind.
The 2008 Festival runs from
Weds 16th to Sun 20th July
. The site has good public transport links; nearest train and coach station is Taunton (direct trains from many towns); there are a couple of local buses each day from Taunton direct to the site. There's also special festival mini-buses going direct to the site and back from Bristol, Brighton and London. See the
Buddhafield Festival website
for details. Don't be put off by the rather severe website by the way - look at the pictures to get a sense of what it's really like!
But PS - don't forget to book soon! See you there! ;-)
The Buddhafield Team
Labels: Buddhafield, Celebrations, children, Dharmaduta, festival, FWBO, Youth