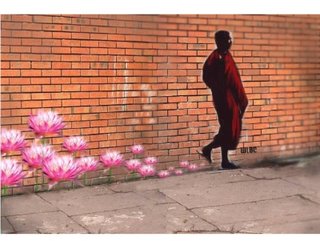 Last summer the
West London Buddhist Centre
experienced serious flooding on two separate and entirely unrelated occasions – one causing the ceiling of their shrine room to collapse and one covering the floor with water.
Undeterred, they embarked upon the necessary repairs and are now scheduled to be fully up and running again in time to celebrate Buddha Day on Sunday the 18th of May. There will be a free open day from 12 to 5, with talks, meditation, and an exhibition of Buddhist art works, followed by celebrations for the Sangha in the evening.
Among the artwork is a piece by local Buddhist artist Jason Etienne, titled "Basic Buddhism 2" – clearly inspired by the twin sources of British graffiti artist
Banksy
and the legendary biographies of the Buddha, which speak of lotuses springing up behind each step of the Buddha as he roared his lion's roar..
Meanwhile, up in Scotland, the
Edinburgh Buddhist Centre
, who last year experienced major floods of their own, are just celebrating the second anniversary of their new Centre. Their new Director, Vajrahridaya, has written an open letter to all who have ever contributed to the FWBO in Edinburgh. Since those many people are now scattered around the world, we have pleasure in reproducing part of it here on FWBO News. Vajrahridaya writes -
"I, along with the Trustees on the Edinburgh Buddhist Council would like to take this opportunity to thank you and express our gratitude for all the support and help you have contributed towards the stability and growth of our local Sangha in Edinburgh.
"We would like to acknowledge that your help and generosity, in the form of either Donations, Standing Orders, Gift Aid, your practical help, your encouraging presence and words or even just coming along to the centre to support us, has contributed towards the creation of this new centre and thus our Sangha.
"It is due to our collective effort and enthusiasm that we have managed to buy our own new premises and establish our Sangha, the spiritual community in Edinburgh. So Sadhu! Sadhu!! Sadhu!!!
"We hope that you will continue to offer your valuable support and help towards the growth and development of our Sangha and we very much value and welcome your ideas, thoughts and vision for spreading the Buddha's Dharma in this modern world.
"Yours in the Dharma, Vajrahridaya"
Sadhu Edinburgh!