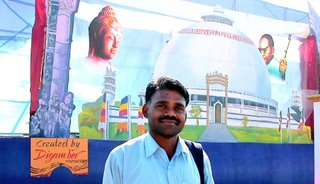 Maitriveer Nagarjun (shown left) is an Indian Order Member, studying at the prestigious JNU university in Delhi. Besides leading Dhamma classes at the university and travelling all over northern India to visit Buddhist local groups, he's recently been helping organise 'Eyes Re-Cast' – possibly the first ever exhibition of contemporary art based on the philosophy of Dr. Ambedkar and the Buddha.
The painter, Savi Sawarkar, is India's most eminent Dalit painter and print-maker. His art is angry, outspoken, and direct - causing Gary Tartakov, a professor at JNU, to comment "He doesn't sell real well [in India]. He sells internationally".
As if to bear this out, a simple Google search reveals an exhibition review from the
Iowa State Daily
in far-away America. They quote Eleanor Zelliott, a sympathetic academic who has for many years specialised in Dalit studies, and author of '
Untouchable Saints: An Indian Phenomenon
'. She comments "His art work targets Brahman orthodoxy. One painting which I find very touching is one of an untouchable carrying a dead cow across his shoulders, a comment on the traditional duty of the untouchable to carry carcasses from the village."
One painting that demonstrates Sawarkar's willingness to provoke is his interpretation of Manu, the great law-giver of India. Sawarkar portrays him as a monster because it was Manu who gave the laws that included the caste system that made Savarkar a Dalit. These laws made crimes against an untouchable insignificant, but crimes against Brahmans, the highest class, to be the worst thing a person could do. The Brahman view of Manu, by contrast, portrays him as prestigious and god-like.
You can see a small slideshow of Sawarkar's paintings on FWBO Photos
here
– or see below. And if you happen to be in Delhi, go visit the Lalit Kala Academy Gallery, where the exhibition runs up to 30th April.