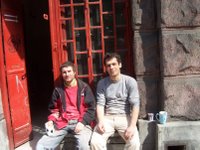 Over in Krakow, Poland, the FWBO's newest Buddhist centre is taking shape – with a good deal of sweat and hard work. Nityabandhu, who is leading the project, sends FWBO News a brief dispatch from the front line:
"Hi, sorry this is very laconic but not much time at the moment. We were promised dust, noise, sweat and tears and that's what we are getting apart from the latter. It is a joy however to work on this project knowing that the end result will be a Buddhist centre. At the moment we are doing the hardest work with Karunabandhu ie demolition, this creates a lot of noise and enormous amount of dust, I feel like we are in the war. But the spirits are high and next week our first helper/visitor is coming for a week". Nityabandhu is from Poland and is returning home after several years in the UK preparing for just this move. He is being helped in the building work by his good friend Karunabandhu, originally from Germany but most recently also from Birmingham, UK. Both are shown in the photograph - enjoying a well-deserved lunch!
Photos of their work can be seen on their
Flickr site
and – this being the age of YouTube – we are promised a series of action movies, the first being viewable
here
…
Nityabandhu's careful preparation means that they already have a substantial web presence and several books already translated into Polish. Their main website is
buddyzm.info.pl
, where you can read about the 'Przyjaciele Zachodniej Wspólnoty Buddyjskiej' – as the Friends of the Western Buddhist Order is known in Polish! Or try
polski.wildmind.org
to learn meditation online in Polish, courtesy of Wildmind…
Fundraising for the work is going on, and they would welcome offers of help, especially financial – please contact them at
kontakt@buddyzm.info.pl
if you are interested.
Labels: Dharmaduta, Poland