Visitors to the
FWBO News website
can scroll down below the latest story to see – among many other things – an ongoing list of where the site's visitors have come from. This currently stands at a little over 23,000 since November 2007 – from no less than 134 countries. That's not surprising, given the international nature of the internet and the fact the FWBO/TBMSG have centres or groups in some 25 countries.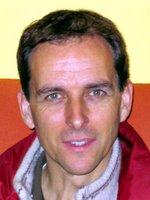 However, of course many people who are part of our Sangha don't speak English – including many from the Spanish-speaking world. And so
Moksananda
, an English Order Member who has lived for many years in Spain, has begun translating selected stories from FWBO News into Spanish. Recent posts include
Arte Dalit
;
Hacer que el Dharma trabaje
; and
En Krakow - polvo, ruido, sudor y alegría...
FWBO News would be very happy to hear of any other translation initiatives going on at FWBO/TBMSG centres.
FWBO News maintains a substantial database which attempts to list all existing translations of all FWBO Dharma of all sorts into all languages world-wide. This is available on the Resources tab of the site - see
FWBO Translations
here. This can be downloaded for ease of reference, and again, updates are welcome.
Labels: Spain, Translations