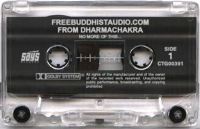 We're totally thrilled to announce the launch of
Free
Buddhist
Audio
, the new, free download and streaming service from the Dharmachakra sound and text archives.
To receive more regular update information on the site, you can always
subscribe
to our own blog.
The site features hundreds of free talks as well as guided meditations, retreat recordings, question-and-answer sessions and interviews.
There's also a very extensive searchable text archive, including full access to all of Sangharakshita's seminars and talks, and many texts by other speakers too.
The site has been several years in the making, and is now live!
Come and play...
Labels: Free Buddhist Audio