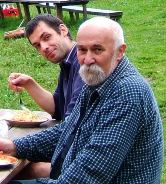 At the beginning of August during an improvised weekend retreat in Polish Beskidy mountains Dharmacari Nityabandhu (left) conducted the first mitra ceremony on Polish soil. Maciek Sowa, aged sixty, (right) became a mitra.
Nityabandhu says: "He used to work in the Polish coal industry for many years, guarding the 'black gold'. Now he is going to help us guard the Three Jewels in Poland and I tell you the man is himself a mine full of sraddha!"
Regular readers will recall that Nityabandhu and others recently
purchased a property
that will become the
Krakow Buddhist Centre
.