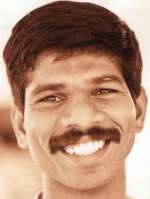 Kumarajiv, an Order Member from Nagpur and leader of TBMSG's '
Dhammakranti
' (Dhamma Revolution) project has sent us this update. As soon as it finishes massive crowds are expected at Buddhist sites across India for the October 14th aniversary date of Dr. Ambedkar's conversion.
Dear Lokabandhu,
I am in Chattisgarh State at present. I have been travelling into the rural areas of Bilaspur and Janjgir districts for last three days making sure about arrangements of the Dhamma Yatra - mainly giving clarity and confidence to people who are working for it. I met more that 100 people who are preparing for the Dhammayatra. The Dhammakranti team has been working hard for some time to set this up!
The Yatra will go on for five days from 8th to 13th Oct. While it is on we will be out of contact because of the remote areas we will be in, however we will report in full after it ends. On 14th there is a mass rally and conversion in Hyderabad, 400,000 people are expected with many thousands converting to Buddhism.
The purpose of this Yatra is to reach out to the depressed communities in this state, who are named as Ramnamis, Satnamis, Suryvanshis, Baya-Mahars. Around 10 percent of this community is Buddhist, others are influenced by Dr. Ambedkar but not Buddhists.
This international community travelling 250 km distance in five days will give a sense of belonging, confidence and learning about Buddhism and especially a visible experience of three different caste communities working together for the Dhamma. This will greatly affect the minds of all people including Hindus in this region, They will see a casteless community in action.
There will be talks every afternoon and evenings for all five days. The Women's Ashvaghosa team from Nagpur [Ashvaghosa runs cultural activities such as story-telling and singing – ed.] is also participating , they will be an inspiration to the women in these communities, who are much more depressed than women in other communities in India. The participation of nearly equal numbers of women in the Yatra is a deliberate effort to set an example in front of women here, as well as to create an atmosphere where women feel safe to attend the talks in the Yatra.
We are starting from Raipur in the afternoon at 1:00 pm today. Our next destination will be Bilaspur which is 100 km from Raipur. In the evening there will be grand welcome of all the Dhammadhutas taking part in the Yatra. Participants are from India and the UK, from the UK are Subhuti, Lokeshvara, Vishvapani, and the Dhammadhuta training team from Madhyamaloka. From India we have Amoghasiddhi, Amrutsiddhi, Jayamani, Jnanajyoti and other 10 Indian Order members. 30 mitras from Chattisgarh will also be participating.
I am also writing this to add to the news: yesterday on 7th Oct 2006 evening, on the auspicious occasion of Purnima 2000 people converted to Buddhism. People from three caste-communities participated in this conversion - . Mahars, Satnamis and other Backward communities. 4000 people participated the ceremony. It took place in Dongargaon Chillti, Rajnngaon District, Chattisgarh state. Please add this to the news.
Kumarajiv
Labels: engaged buddhism, India