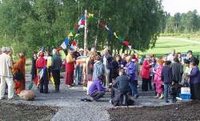 On Sunday the 3rd of September the local Buddhists of Stockholm inaugurated a Buddhist graveyard, just south of Stockholm. About 50 people attended, with representatives from one Sri Lankan and two Thai Theravada groups, two Tibetan Groups (Karma Tenpe Gyaltsen and Sakya Changchub Chöling), Friends of the Western Buddhist Order, a Zen group (
Zenbuddhistiska Samfundet - The Zen Buddhist Society)
and a western Vipassana meditation group. The ceremony was introduced by Trudy Fredriksson from Karma Tenpe Gyaltsen and then there were a number of recitations from: the Theravada bhikkhus, a Tibetan lama, myself and a story from the Theragatha told by Marie Ericson. We were blessed with both torrential rain and warming sun. Where the birch pole is seen, a stupa will be erected in time. Pictures of the event can be found on
Viryabodhi's Flickr site
.
There was a good and harmonious atmosphere and in his talk Lama Tsultrim remarked that we all belong to the same big Buddhist Family, and that we basically practice the same teachings. The Graveyard project is the latest result of the co-operation between Buddhists who are members of
Sveriges Buddhistiska Samarbetsråd
(the "Swedish Buddhist Council").