Ujukarin, from Sri Lanka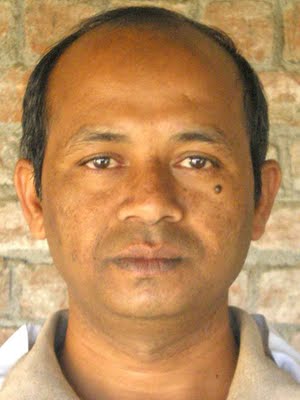 Prajnajit, from India
Ujukarin, a Dutch Order Member who's a regular visitor and Dharma teacher in Sri Lanka, writes with news of an ongoing India - Sri Lanka collaboration. He says - "Some years back myself and my friend Prajnajit from India made a vow: we each would spend 25% of our annual Dharmaduta (Dharma teaching) time to assist one another in the neighbouring country. Prajnajit did his part during three months in Autumn 2009, which was described in detail in this blog http://fwbo-news.blogspot.com/2009/09/ujukarin-dutch-order-member-who-is.html . And now, I who am only able to give part-time to my Dharma teaching work, spent 10 days in India to 'pay back the debt'.
"Our tour was mainly around Umarga town, with a population of 30,000 in the south-eastern tip of Maharashtra state; it has a Bahujan Hitay boys hostel and a Buddhist meeting hall (vihara) in town. Basically what we were aiming to do during my visit was to enhance the regular Dhamma talk schedule of Prajnajit, plus those of visiting Order Members like Abhayabhadra from Pune. We visited two rural towns nearby, the larger city of Osmanabad 100 km to the west and of course Umarga vihara; overall attendance over five nights must have been in the range of 500-700 people. Also during transit in Hyderabad (Andhra Pradesh), 200 km to the east, we had an inspiring evening with the local sangha in their vihara. The talks were successful, and made it on to the pages of at least four local newspapers; the topics we spoke on often linked Buddhism to practical family life in Asia, e.g. parenting, politics, and how to avoid astrology and the dowry system!
Chanting mantras at the start of the Osmanabad event,
with Prajnajit and Ujukarin upfront
"What impressed me most, as well as the usual exemplary hospitality of the Indian Buddhists and the dedication of Order Members and Dhammamitras of course, were the more and more varying circumstances in which we were working, compared to Holland and Sri Lanka. The traditional pattern of oppressed ex-untouchables certainly still exists, as we found for instance in Betjawalaga village close to Umarga. Not only did we need to hold a small 'procession' prior to the meeting to demonstrate that all parts of town, including the high-caste ones, weren't off-limits to the Dalits; we were also told it was better to avoid directly attacking Hindu gods and goddesses in the talk (though this was something Buddha often did) as this could lead to future repercussions on our friends. One very interesting occurrence, on the other hand, was that when we held Triratna day in Umarga we had a smaller audience than we expected. On making enquiries, we found a main reason was that on the same day a popular Hindu temple had held a festival which also attracted quite a few Dalits. That situation sounds positive to me: not so much in terms of 'more spiritual competition' but in terms of a new generation of Hindu temples starting to arise which don't care anymore about the caste of a visitor, or even whether they call themselves Hindu at all!
"Overall it was a very inspiring trip; the Umarga sangha hopes for many more volunteer visitors from the West, whether Order Members or groups of mitras!'
Labels: Dharmaduta, India, Maharastra