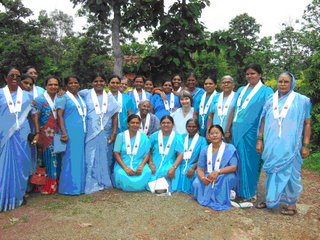 This week, in our Saturday 'People slot', FWBO News features Karunamaya, a Western Order Member who's visited India and supported women's activities there for many years. Her name means 'Embodiment of Compassion'; she's a key figure in the Ordination process for Indian women.
Karunamaya's a naturally retiring person, so we don't actually have a 'big picture' of her. Fittingly, however, you'll find her embedded in the centre of the photograph opposite, or on the
Order Mosaic
(five people to the right of Avalokitesvara's elbows!), though there is a close-up
here
, as part of the Order Mosaic.
We're especially pleased to feature her because she's written to FWBO News to say –
We need more Dhammacharinis in India.
Can you help us?
• In September 2008, 11 new women joined the Western Buddhist Order/TBM (in India). The largest number of women ordained in India ever!
• But in January there'll be even more – 15 women – being ordained. The ordinations will be held at the Bhaja retreat centre 29 December to 11 January. The public ordinations will be January 11, 2009. This is an historic occasion - such a large group of Indian women being ordained at one time. All their names are listed below.
• Also we will be welcoming the first new Dhammacharini from the state of Uttar Pradesh who is resident in the state.
• 700 Indian women + want to train as Dhammacharinis. That's more than in the whole of the rest of the world!
• There are thousands of women in India who need trained Dharma teachers (Dhammacharinis) to learn the dhamma.
• Our main difficulty is the absence of funds.
• We have just £600/1200 US$ per year for our project. Enough for one team member and a few other expenses.
• We had serious difficulties finding the money to pay for women to attend the two-week ordination retreat.
• And have ongoing difficulties to fund women to come on retreats and to support team members to take the Dhamma out to women in the cities and villages.
• It costs 490 Rupees (£6, 12 US$) for one Indian woman to go on a 1 week retreat.
• A woman in a low income job might earn 400-500 Rupees in a month!
• Or they are dependent on husbands who are not always ready or able to give them the fee.
Could you afford to give £6, (US$12) a month? The cost of 4 cups of coffee? Or could all the members of your group make a 50p, (US$1) donation each week when you meet?
It would all help.
You can help Indian women to help themselves and other women by visiting
www.justgiving.com/atmt
Regular donations by direct debit help us plan our work.
For details see
www.indiansisters.org
or you can
e-mail us
.
Please state that your donation is for the Arya Tara Mahila Trust Ordination process.
Thank you.
Women's Ordinations in India
Dear Friends
We are pleased to announce the forthcoming ordinations of the following 15 women in India.
The women to be ordained are:-
] Rajani Barate - Pune, Dapodi [2] Anita Gaikwad - Pune, Dapodi [3] Kamal Gaikwad - Pune, Dapodi [4] Alka Manwatkar - Pune,Yerawada [5] Nalini Chabukswar - Pune,Yerawada [6] Vishakha Mane - Pune, Pimpri [7] Shaila Ilamkar - Aurangabad [8] Shushila Ingle - Aurangabad [9] Yashodhara Narvade - Aurangabad [10] Pratibha Shende - Amravati [11] Durga Devore - Amravati [12] Shalu Meshram - Wardha [13] Lata Patil - Nagpur [14] Indubai Shardul - Ghatkoper ,Mumbai [15] Savita Gautam - Modinagar(Uttar Pradesh)
with Metta Karunamaya
Labels: Fundraising, India, Ordination, women