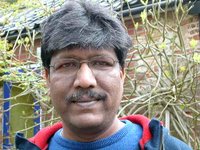 This week's profile in our new series of 'FWBO People' features Aniruddha, an Indian Order Member working in the field of '
NVC
' (Non-Violent Communication).
His professional training in this and other areas has allowed him to make a crucial contribution to TBMSG's work in India, especially in the areas of 'capacity building' and change management. He's now moving away from this training work to focus on his NVC work – and we're delighted to be able to celebrate him as he makes this move.
Aniruddha's website is called 'Connect to Life, you'll find it at
www.connect-2-life.com
.
His final report, detailing some of the successes (and challenges) in his work with TBMSG and other movement trusts can be found on FWBO Features
here
. The report focuses especially on what he calls 'Social Change through Mind Change', an area where Buddhism and NVC find themselves in especial harmony, able to offer something of great value to the world. He leaves behind a well-established 'Capacity-Building Team' to take his work with TBMSG forwards. The team is called 'Sekho', a Pali term meaning "One who facilitates learning".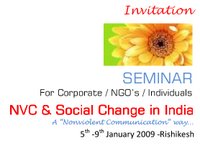 Coming next for Aniruddha is a major seminar in January up in the Himalayan foothills at Rishikesh. It's for a wide spectrum of Indian NGOs and will explore 'NVC and Social Change'. The
conference flyer
is also on FWBO Features, more details are on the
NVC India website
, also run by Aniruddha.
Aniruddha is especially keen to be able to offer bursaries to workers for grassroots and less-well-off NGOs, and we've set up a donations page to assist in this. He writes –
"I was going to make this request to you some time back but was feeling bit hesitant, may be now I have the courage to do so, as you might be aware that we are inviting NGO's working for social change from all over india for this seminar at Rishikesh. There will be some NGO's who cannot afford to pay the seminar fees which is around £30 GBP for 5 days, I would really like to see these NGO's coming and benefiting from this conference; if you could help me do that, that will be such a great support for me, so that I can put more of my energy in making this conference a success..
£30 will allow someone to attend this conference, which, as Aniruddha says, may bring "about extraordinary transformation in thinking, speaking and acting around the world" If you'd like to donate please visit
www.justgiving.com/aniruddha
We wish Aniruddha all the best in his future plans and work.
Labels: FWBO People, India, NVC