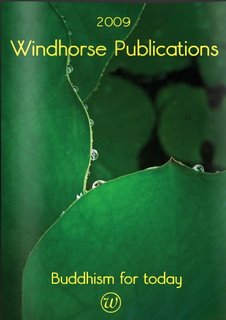 Windhorse Publications
, the FWBO's main publisher, have released their 2009 catalogue – and very handsome it is!
There's lots on Buddhist practice, for instance Paramananda's pocket guide to meditation focusing on '
The Body
' – the third book in Windhorse's best-selling series, which includes 'The Heart' and 'the Breath', both by Vessantara.
There's a new edition of Transforming Self and World, Sangharakshita's guide to the Sutra of Golden Light, aand new edition of the Dhammapada.
Windhorse don't simply publish books – there's a growing collection of
multi-media introductions to meditation
.
To be released are 'Life with Full Attention', an 8-week course on mindfulness by Maitreyabandhu; which will accompany the FWBO's first
International Urban Retreat
in June 2009, and Nagapriya's second book 'Visions of Mahayana Buddhism', which looks set to be as popular as his '
Exploring Karma and Rebirth
'.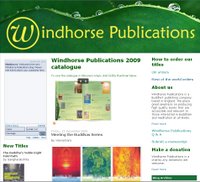 Sangharakshita's 'Living Ethically – Advice from Nagarjuna's Precious Garland', also due for release during 2009, will join his existing books '
Living with Awareness
and '
Living with Kindness
'.
The catalogue is available on-line or to download from Windhorse's very handsome new blog, which you'll find at
windhorsepublications.blogspot.com
.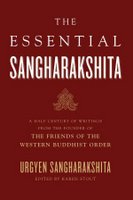 They are also taking advance orders for 'The Essential Sangharakshita', just published by Wisdom. This eagerly awaited selection of Sangharakshita's writings, edited by Vidyadevi, is available for pre-order now through Windhorse Publications for the bargain price of £16.99.
They say, "Due for release in January 2009, The Essential Sangharakshita is the culmination of over fifty years of one man's study, practice, and personal experience of Buddhism".
And we say, "Enjoy!"
Labels: books, publications, Windhorse Publications