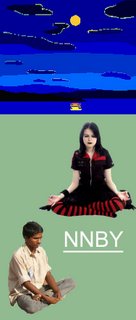 The night of Saturday December 13th will see an international 'Sponsored Full Moon meditation' raising funds for NNBY, India's National Network of Buddhist Youth, an autonomous project under TBMSG's 'umbrella'.
The target is for them to raise their entire annual budget of UK £4,500 in a single night - all readers of FWBO News are invited to contribute, either by meditating (and seeking sponsors for yourself!) or simply by donating.
This is very simple – there is an internet fundraising page at
www.justgiving.com/fullmoonmeditation
.
Kumarajiv from India has contacted FWBO News with the latest developments there. He says -
"I am writing about the arrangements in India for the Sponsored Full Moon meditation. As you know this is to raise funds world-wide for NNBY- this is our initiative of the National Network of Buddhist Youth. We need funds for our programme of Buddhist Youth leadership training and also for our big annual Buddhist Youth Conference.
"The event in Nagpur will be the biggest. We are arranging a facility for meditation for 500 people. It will be held at the open to sky meditation hall on the Deekshabhoomi ground. This is the historic place where Dr. Ambedkar converted to Buddhism in 1956. Subhuti will be giving a one hour talk at the beginning of it at 6 to 7.30 pm then he will ring the bells for the first meditation at 8 pm. We will go on until 5.30 am and then conclude with puja.
"The arrangements for 500 people will be little risky since we are fearing that many more people would turn up. We will also be encouraging participants to donate during the event.
"People in Wardha will be meditating at the TBMSG Centre there, they are hoping for 100 participants – and the same at our Centre in Amaravati. Others are also meditating throughout the world. We warmly invite all members of our Sangha to join us on this night and also to donate to NNBY."
The initiative has met an enthusiastic response in New York among the FWBO Sangha there, they have created a special webpage that can accept
American donations
. It's also been spreading virally through the
Facebook network
where people from 7 countries have committed to participate.
It's very easy to take part – you simply commit to meditating for as long as you feel able on the full-moon night of Saturday December 13th, this can be in your own home or any other place of your choosing. Then tell your friends, asking them to sponsor you by visiting the fundraising webpage
www.justgiving.com/fullmoonmeditation
. And if you don't feel up to meditating – just donate!
A full
introduction to NNBY
is available on their main fundraising page; they also have a
website
. Please do consider taking part or donating.
Labels: Fundraising, India, Meditation