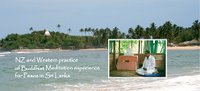 Ujukarin has sent FWBO News this short report on activities at
Sagaraloka
, the small FWBO Centre in Sri Lanka.
"The FWBO's Sri Lanka sangha, still in growing-up mode, had another visit from me, Ujukarin. I'm a regular visitor even though I'm a native of Europe. Saddhavira, the resident Order Member, was away for health reasons but supported us a lot from a distance.
"As well as many periods of Dharma practice, we met several times to discuss how to move forwards as a Sangha. Several things became very clear over the course of our discussions; I copy them below in case they are of interest to people in other small Sanghas -
* We learned that in order to continue some growth, and be resilient in the face of the erratic availability of the local Order Members, the local Mitra Sangha needs to become more creative and take more responsibility for its circumstances.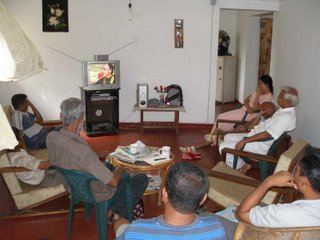 * Modern media make learning easier. We are now using the
ClearVision
talks on DVDs more and more, this is great for us even when there are live Order Members present to give explanations.
* Instead of always hoping for big funds from abroad to build our own Centre – which have never materialised - we can simply use living-room situations more. And ask for the (much more available) human resources! One development in the pipeline is that Ujukarin last week visited India for 5 days to prepare for a 3-month stint next year from an experienced Indian OM to assist in Sri Lanka!
* The only solution for strength in the long run is more local Order Members and more one-on-one contacts with the wider FWBO/TBMSG. The recent ordination of Sri Lankan Jinasen in India (sadhu!) is a good step, but lots more Lankan mitras need to deepen their practice and make contacts with the Order through ordination training in India and contacting the Jalaka and
Hridayavani
magazines (these are magazines specifically for men and women respectively, who have requested ordination into the Western Buddhist Order). This insight is now seeping through and is leading to tangible steps by at least 3-4 mitras.
"Next year I will hopefully have much more to report in this respect, including new retreats in Sagaraloka and a small experimental project in collaboration with a liberal rural Theravadin bhikshu!
"With folded palms,
"Ujukarin"
Labels: Dharmaduta, Sri Lanka