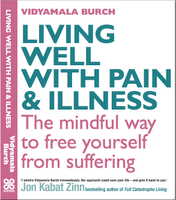 The FWBO's '
Breathworks
' project is delighted to announce the publication of their first book, 'Living Well With Pain and Illness', written by Breathworks' co-founder Vidyamala, herself a long-term sufferer of chronic pain. They say -
"The book, subtitled 'The mindful way to free yourself from suffering', gives a detailed summary of the principles and practice of the Breathworks programme.
"It is intended for anyone looking for new ways to live with pain and illness or other long-term difficulties. The main focus of the book is physical pain, but the mindfulness techniques are relevant to illness of any sort. They will help with managing energy and fatigue; also improve quality of life. The techniques are also relevant to mental and emotional suffering, such as stress, anxiety and depression.

"The book starts with Vidyamala's own story of living with pain. It looks at the nature of pain and describes how we can find a new relationship with it using mindfulness. It explores mindfulness and how it can bring wholeness, even if your body is injured or ill. The book then goes on to practical guidance on how to come home to your body through breath awareness and mindful movement, introduces three formal meditation practices with useful tips, and looks at how you can take mindfulness into your daily life.

"The book has been written in part in response to requests from people unable to attend a Breathworks course. It was also written with a strong sense of how Vidyamala felt when she first faced the loneliness of disability and chronic pain with few skills to help, in the hope that some of the lessons learned can help others find an easier way through their own journey with pain and illness.

Highly recommended!

Reviews and recommendations for the book are already arriving – a selection are printed below:

"The cultivation of mindfulness can make a profound difference in how we relate to pain and whether even chronic pain conditions need to turn into endless suffering and misery. This has been known over the past 2600 years, and is now being supported by studies in both medicine and neuroscience. In this book, Vidyamala makes the practice of befriending your experience through mindfulness, however unpleasant or pleasant it may be, both commonsensical and compelling. I admire her tremendously. This is a beautiful and very important book. It could save your life -- and give it back to you."
Jon Kabat-Zinn, Ph.D.,Professor of Medicine Emeritus, Umass Medical School and author of Full Catastrophe Living and Coming to our Senses

"The book is a moving and compelling invitation to bring a radically new way of working with the fact of our pain. It is a book of enormous tenderness and honesty, offering wise guidance on how we can live with greater ease by turning towards what we most fear about our pain and suffering."
Prof Mark Williams, Professor of Clinical Psychology, Dept of Psychiatry, University of Oxford

"Vidyamala Burch has practiced mindfulness for many years, as well as applying the practice to the relief of physical suffering, both her own and that of other people. She has now embodied the fruits of her extensive experience in a very readable and useful book. I hope that Living Well with Pain and Illness will have a wide circulation, in a world where, despite all our progress, there is still so much suffering, some of it unnecessary."
Urgyen Sangharakshita

"This is one of the most generous and empathic books I have read. Nobody with an open mind could fail to learn from it. Readers with and without pain will recognise eloquent descriptions of the traps we fall into when we struggle to avoid what we don't want in our lives."
Dr Amanda Williams, Reader in Clinical Health Psychology, University College London
There's also a review online from the
Irish Times
.
Labels: books, Breathworks, publications