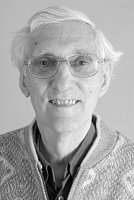 Dharmamati has sent us this report on Sangharakshita's diary for the last two months.
"The last report concluded by noting that Sangharakshita was about to visit
Tiratanaloka
, the FWBO's retreat centre in Wales, specialising in retreats for women preparing for ordination, where he was to lead study on the Ratnagunasamcayagatha. The first day of the study went well. However, Sangharakshita awoke the next morning feeling very ill and was taken to hospital. He was found to be suffering from increased blood pressure and upper heart arrhythmia, which although not life-threatening meant his current medication had to be increased. The consequences were that even after a short exertion he became very tired. He needed some weeks to recuperate and due to this had to cancel a visit to Cambridge and the Windhorse Managers' meeting. His energy levels have now improved but he has to be very careful not to over-exert himself as this can leave him very tired.
March
"Despite the setback in Sangharakshita's health he continued to meet people nearly every day: in fact during this month there were only 3 days when he didn't see visitors and even then he saw Samacitta to continue working on the Spoken Word book, Nagarjuna's Precious Garland, mentioned in last month's report.
"An important event in March was that Sangharakshita's companion Nityabandhu returned to Krakow to start FWBO
Dharma activities in Poland
. There was a farewell dinner for Nityabandhu here at Madhyamaloka, which Sangharakshita attended and during it, expressed his appreciation. He specifically mentioned that one of the main things he had learned was that Nityabandhu, being Polish, saw things very differently! Nityabandhu's leaving is a great personal loss to Sangharakshita, however, he is very glad that Nityabandhu will be devoting himself to spreading the Dharma in Poland.
"Sangharakshita also visited Vidyadevi, a long-time editor of his work, in her new home in Herefordshire. She has been working on a compendium of Sangharakshita's teachings that is going to be published by
Wisdom Publications
under the title, The Essential Sangharakshita.
"At the end of March Sangharakshita stayed at
Padmaloka Retreat Centre
, from where he made two visits to the European Order Weekend at Wymondham College – a major gathering of the Order celebrating 40 years of the Western Buddhist Order. He attended some of the talks and had meals with "old friends", Order members who were some of the first to be ordained by him. He thought the weekend a great success.
April

"In the second week of April Sangharakshita visited the
Manchester Buddhist Centre
and stayed at the Men's community in Salford. He gave a 40 minute talk on Sangha night at the Manchester Buddhist Centre about the 'Six Distinctive Emphases' of the FWBO. He also gave a question-and-answer session for Manchester Order Members. He thought that the centre was very much alive with a lot of positive things happening. On the return to Birmingham he stopped at Hebden Bridge in the Pennines and visited a Mitra who is housebound due to illness".
Next up is a visit to Holland and the
FWBO Centre in Amsterdam
- but more about that in the next report.
Labels: Sangharakshita