Wildmind has recently released their latest Newsletter, on the theme of
Purification
. Highly recommended – but so is the rest of
the Wildmind site
. Although they are basically in the business of teaching meditation on-line to all who wish to learn, their site has, over the years, grown to include contributins on many subjects from many people.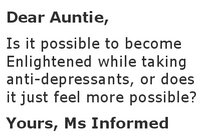 While researching this article, FWBO News' eye was caught by their recently revamped guest column '
Ask Auntie Suvanna
' – a unique, on-line, opportuniity to put your burning questions to a wise and kindly Buddhist auntie… In her own words, she says, "Ever despair at how to cultivate lovingkindness for Dick Cheney, or ponder the effect of anti-depressants on Buddha Nature? If so, check out Auntie Suvanna, who applies her unique wisdom and wit to your queries about life, meditation, Dharma, family and relationship issues, or anything else that comes up…" Just in case you're wondering, she goes on to say "They don't have to be Buddhist troubles - any kind will do!".
They're also pretty good at keeping up with meditation in the
news
.
If you are pretty new to Buddhism and want to learn basic Buddhist meditations as practiced in the FWBO, and if you're not near a Buddhist Centre, Wildmind is the place for you. It's all here –
mindfulness
,
loving-kindness
,
posture
,
mantra
, and
walking meditations
.
Getting even more interactive, their new
Open Circle
is a discussion forum, currently looking at Buddhism: Tools for Living Your Life, by Vajragupta. To quote Wildmind's own introduction, "Open Circle is part on-line book club, part Buddhism course. It provides an opportunity to explore key Buddhist concepts and be guided through reflections and activities designed to integrate them into your life. The emphasis of Open Circle goes beyond understanding Buddhist principles, and we do much more than just discussing the concepts presented. Each week the facilitator suggests specific reflections and activities to make the material for the week relevant and applicable. There is ample opportunity to ask questions, receive guidance, and share your ideas and experiences".
Enjoy!
Labels: Meditation, Wildmind