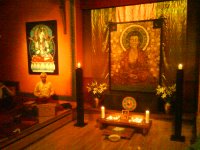 Padmaloka
, the FWBO's retreat centre and home of the men's Ordination Team, has long been known as the home of a series of wonderful paintings by Aloka, the FWBO's most prolific and much-loved artist. Over a lifetime of painting, he has pioneered a unique fusion of Buddhist iconography and Western artistic styles, yet his health is not good and he knows his time left for painting is limited.
Last year Padmaloka began commissioning Aloka to produce a series of large paintings to fill their shrine room with images of Buddhas and Bodhisattvas – adding to the three already there. In order to do this they are aiming to raise around £10,000 per year for the next few years.
All men involved with the FWBO are therefore invited to join the Padmaloka community for a unique weekend fundraising event - the
Twenty Four Hour Garland of Mantras
. This will take place over the UK's August bank holiday weekend, ie 29 Aug - 31 Aug 2008.
The weekend will begin with a talk by Padmavajra, after which the core of the event will consist of an intensive 24-hour period of mantra chanting. During this those present will alternate between chanting, meditating, sleeping, eating etc. Samudradaka, Padmaloka's Chairman, says "This will be a fantastic opportunity to deeply immerse yourself in the mysterious world of mantra and help call forth the paintings yet to come!"
He goes on to add, "When booking for this event you will receive a sponsorship form. The challenge then is to find people to sponsor you to take part in the 24-hour mantra chant. If you are able to raise at least £108 worth of sponsorship before coming you can attend the weekend for free. Otherwise Padmaloka will ask for their usual weekend rate".
The weekend is open to all men – but numbers are limited to 108!
To book please
contact Padmaloka
in the usual way. If you'd like to donate directly, please go direct to the
Padmaloka appeal
.
Labels: Arts, Fundraising, Padmaloka