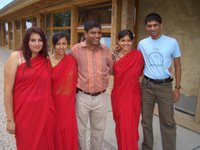 FWBO News is pleased to present interviews with two new Buddhists, both unusual in that they are Hungarian gypsies, part of a growing Buddhist sangha within the gypsy community.
To give a little background, a little over four years ago a group of Hungarian gypsies made contact with Subhuti and others from the FWBO. They had heard about the work of Dr. Ambedkar and had been deeply impressed by what they had read of his work and the suffering of his people, the Dalits, or 'untouchables' of India. They had in fact come to feel a deep connection with the Dalits of India, even, to see themselves as the Dalits of Europe and Dr Ambedkar's message of social transformation as being deeply relevant for them.
Since that time Subhuti and others have made many visits to Hungary, most recently earlier this month, and some of Hungary's new Buddhists have visited both the UK and India.
In his latest visit to Hungary Subhuti interviewed two of our Mitras there, covering a wide range of topics including their personal histories, the general situation of Gypsies in Hungary and how they came to connect with the Dharma and the FWBO. Below is a short excerpt from Janos' story, if you'd like to read more please follow the links at the bottom -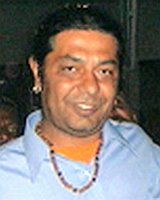 "After one month in India, I came back convinced that I was a Buddhist. On a very big retreat in Nagpur for 5,000 people, in January 2006, I had become a Dhammamitra, publicly declaring that the Buddha is my teacher, that I will practise the five precepts, and that TBMSG/FWBO is my spiritual family.
"But back here in Hungary, there were only Hungarian Buddhists, and I could not identify with them. However, people from the Western Buddhist Order/Trailokya Bauddha Mahasangha, both Europeans and Indians, came to stay with us and they were completely different from the Hungarian Buddhists.
"It took me some time to work out what kind of a movement the FWBO in Europe is, because these were white intellectual people who took to Buddhism for reasons that I could not really understand. But they were different from the Hungarian Buddhists I had met, because they were genuinely concerned with social questions. When they come to Hungary they spend time with us, which Hungarian Buddhists don't do. They have become our friends and the connection between us is very good."
. excerpt from interview with Orsos Janos
The first, longer, interview is with
Janos Orsos
, who tells in some detail of the conditions of life for gypsies in Hungary and how he came to become a Buddhist. The second, with
Benu
, speaks of his personal struggles for a better life. Click on either to read their story.
If you would like to know more about the FWBO's work in Hungary or contribute in any way please contact
subhuti.secretary@gmail.com
. You can read previous stories from FWBO News
here
or on the Dharmaduta blog
here
.
Labels: Dharmaduta, Hungary, Subhuti