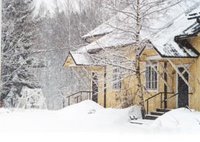 The
FWBO in Finland
have recently been given ownership of Abhayaloka, their much-loved retreat centre about an hour or so north of Helsinki. It is a very beautiful place, set in archetypal Finnish countryside, in a pine and birch forest and next to a lake - which is complete with traditional wood-fired sauna, rowing boat and more.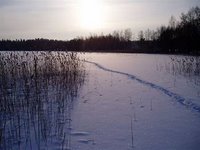 At this time of year, Finland is in the depths of winter and the light is dark and magical, the land covered in snow and the lakes frozen over. There is a natural imperative to reflect and turn one's energies restfully inward. The retreat centre is an old wooden school house which is a delightfully quiet, contained and warm practice space.
To cover the running costs they need to hire out the place a few times a year. They would be very keen to see FWBO groups or teachers from outside of Finland make use of the place and can offer very reasonable rates for hire. If you're interested contact
FWBO Helsinki
.