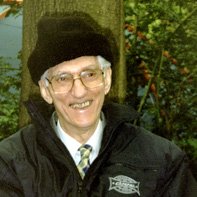 FWBO News is delighted to present this report from Dharmamati, secretary to Urgyen Sangharakshita, founder of the Friends of the Western Buddhist Order but a relatively rare visitor to these pages. The report will be in two parts, together covering the main features of Sangharakshita's life and activity in 2007.
"In the last year Bhante has been more active than for quite some time, and encouraged by Lokabandhu I thought it a good idea to report on Bhante's activities over the last year. My apologies for any errors or omissions.
"Bhante is now 82 and apart from his suffering from macular degeneration to the eyes, rendering him unable to read and write, he is in very good health. This report will be a brief overview of his activities in 2007 concluding with some of his plans for 2008. If you are interested in a more detailed account from the various places he visited please contact the local centre concerned.
January
: Bhante attended the Men's Mitra convenors meeting at Padmaloka where he led study on 'The Taste of Freedom'. He was also visited at Madhyamaloka by a group of Order members and Mitras from Essen.
February
: He met up with members of Windhorse Trading and attended a Q&A session with the Dharmadhuta students.
March
: He made a number of appearances at the College of Public Preceptors meeting at Madhyamaloka. He gave a talk to the private preceptors at the Birmingham Buddhist Centre. A group of Order members from the 'Lowlands' (Holland and Belgium) met with him.
April
: On FWBO day he gave a talk at the Birmingham Buddhist Centre, attended by more than 200 people. People came from all over Britain to attend. He also met two groups - a 'Death and Dying' group from Manchester and the Buddhafield team. He also had a meeting with the UK Chairs.
May
: May started with a visit to Sweden, accompanied by Nityabandhu, whilst there he gave a public talk in Stockholm on Wesak and met the local Sangha. He also visited and named the Stockholm centre's new retreat centre, calling it 'Dharmagiri', meaning the Hill of the Dharma. Later in the month he visited Taraloka to bless their new Tara shrine cabin.
June
: He travelled to Paris, also accompanied by Nityabandhu, where he visited the local Sangha and gave a Q&A session for them at the Paris Buddhist Centre.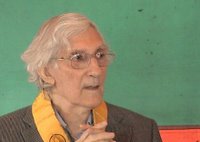 July
: This month saw him attend a very lively gathering at the Buddhafield Festival where he gave a talk on 'Freedom'. Listen to it here on
FreeBuddhistAudio
. Later in the month he gave a Q&A session for Order members at the LBC and visited the Colchester centre where he gave a talk based on his latest volume of memoirs, '
Precious Teachers
' , which was about to be released. He also visited Nottingham where he gave a Q&A session for Order members.
To be continued…
Labels: Sangharakshita