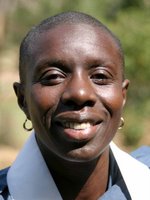 Vimalasara, an African British Order Member, is currently on tour in India, launching her new book on the stories of Indian 'Dalit' women. The title, 'Broken Voices: 'Untouchable' Women Speak Out', speaks for itself, the book presenting a series of moving stories gathered by Vimalasara on an extended visit to India in 2007. Click
here
to order it on Amazon.
The book is presently being launched in Mumbai, Delhi, Kolkata, Pune, and Nagpur, and in most places the evening will include panel debates on the theme of "Caste - Does it still Exist?" Click
here
for more details of her itinerary – all are welcome to attend.
Another book with equally moving stories has recently been published, this time by Baby Kamble, a Dalit woman, whose writings were accidentally discovered by American sociologist Maxine Berntsen. Her book is titled "The Prisons We Broke", and you can read a moving interview with her
here
- beginning with the chilling words "I hid everything I wrote for 20 years". She goes on to acknowledge her debt to Ambedkar - 'Dr Ambedkar had said, "You believed in god. You gave away generations to him. Now give me a chance. Give me this generation! Make sacrifices for 20 years. Enroll your children in schools. Go hungry if you must! But educate your children. After twenty years, you yourselves will come and tell me what is better— god or education?' These words of Dr Babasaheb Ambedkar touched the hearts of our women".
It is the first autobiography by a Dalit woman in Marathi, probably even the first of its kind in any Indian language. The book itself can be ordered
here
.
After her Indian tour, Vimalasara will be heading for San Francisco to take part in a pioneering conference organised by the FWBO's San Francisco Buddhist Center. The conference is 'Buddhism: Beyond Race and Caste' and will be held on April 26th, click
here
for more details.