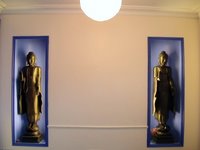 December 19th marked the 10th anniversary of FWBO South Wales and activities in Cardiff. 10 years ago, back in 1996, Surana and Pramudita moved from Padmaloka to South Wales, and within eighteen months had opened the Cardiff FWBO Centre in its present location in St. Peters' Street after a successful fundraising campaign. Ten years later the two of them and the Centre are still there – although Surana has become a university student and Pramudita is taking some extended time off next year. They have been joined by Padmasimha, who teaches yoga; Vishvapani, who is a freelance writer, and a substantial and friendly Sangha – in fact the centre is noted for its warmth, ease, and informality.
By a happy coincidence, Caroline Martin from the centre received her invitation for ordination on the same day. She will be the first person to be ordained directly from Cardiff, but, says Pramudita, there's quite a few not far behind her. Looking back on the last ten years he commented "I feel pleased and optimistic, I think the centre is moving into a new phase. We may have started slowly compared to some centres, which seemed to shoot up in no time, but we're on very solid foundations now. People have a good experience of friendship here."
The photograph shows the two Buddhas that dominate their reception room.