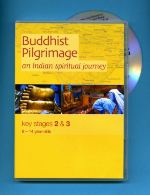 Inspired by the work
Clear Vision's
doing with schools? Be part of the Vision.
January and February 2007 will see fifteen thousand schools across Britain receiving details of our award-winning Buddhist DVDs for young people, including our latest for 8-12 year-olds, "Buddhist Pilgrimage". That's primary and secondary schools; state-funded and independent, including British army schools in Germany.
A catalogue printing and mailout like this costs about 7,000 pounds. It's the only effective way to let teachers know what we do, but we can barely afford it even just once every two years. It's a huge expenditure all in one go. Our sales depend upon it, for the next two years.
Will you sponsor our mailout?
If 200 of us gave 10 pounds, 100 of us gave 20 pounds, 50 of us gave 30 pounds and 20 of us gave 50 pounds, we'd have 6,500 pounds - nearly all of our expenses covered. It would make a huge difference to our finances over the next two years. (Better still, take out a standing order and do the same thing every year without even thinking about it!)
Here's how to help
To make a donation by credit card, or to take out a standing order, please go to www.clear-vision.org/Videos. Print, fill out and post the standing order form, part of the Gift Aid form just above the donation box.
Gift Aid it! We can claim back your tax. If you're a UK taxpayer taking out a standing order or making a one-off payment (by card or cheque), please print, fill out and post our Gift Aid form at: ww.clear-vision.org/Videos.
Many thanks,
Munisha, Upekshapriya and Aparajita
The Clear Vision Trust
16-20 Turner Street, Manchester M4 1DZ, UK
Tel 0161 839 9579
munisha [at] clear-vision.org