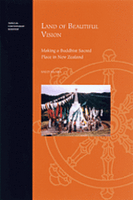 The University of Hawaii Press has announced that Sally McAra's book on the stupa building project at Sudarshanaloka -
Land of Beautiful Vision: Making a Buddhist Sacred Place in New Zealand
- will be published in May 2007.
Sally
is a friend of the Auckland FWBO Centre and has been inolved to varying degrees since 1996. The book is based on Sally's Master's Degree Thesis and looks at the role of material culture in contemporary western Buddhist culture - in ordinary terms Sally was interested in our creation of local myths and stories around the land and the stupa. This is the first large scale anthropological study of the FWBO, and an important event in our history. Sally sheds light on the movement and the making of the myth that is
Sudarshanaloka
. She is currently working towards her PhD which involves studying an
FPMT stupa building project
in Australia - her thesis has the working title - "Stupas Down Under: Materialising Convert Buddhism in the Antipodes".
A tip for
FWBO News
readers is that pre-publication sales are being
heavily discounted
on Amazon US - and with the dollar so weak at present this means that even with shipping you can own the book at a reasonable price. As an academic hardback it may still seem expensive - in which case urge your local
FWBO centre
to buy a copy, and your local
public library
while you are at it.
There are many images from
Sudarshanaloka
on the FWBO Photos Flickr site.