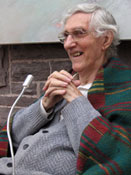 Here is a first news update from
Free
Buddhist
Audio
, the new, free download and streaming service from the Dharmachakra sound and text archives. To receive more regular update information on the site, you can always
subscribe
to our own blog.
We'll be posting regular notices letting you know the highlights of our service as we add new material.
This week we have two major additions. The first is
Remembering Ambedkar
by Sangharakshita. This is our version of his recent webcast talk from the London Buddhist Centre. It's been digitally remastered and cleaned up a bit (we took out most of the coughs and sneezes!), and we have also indexed it to provide detailed individual tracks. It's available, as usual, in three different formats - so whatever your connection speed, you should be able to access the files easily enough.
Our second bit of news is that we've just posted a new podcast. We now have over 6500 monthly subscribers - if you haven't discovered podcasts yet, come and join in! It's free. You can find details of the service
here
.
This is the info on the current episode...
Vajrapani - Energy Unlimited
. To get us moving again now the new site is up and running, we present a cracking and wonderfully detailed talk by Vessantara, author of 'Meeting the Buddhas'. He is the ideal person to introduce us to the complex and fascinating Tantric figure of Vajrapani - 'Lord of Secrets', embodiment of ''virya' ('Energy in Pursuit of the Good'). Vessantara's style is familiar and well-earthed, and therefore eminently suited to material that bristles with electricity and is not always so easy to communicate. We get the origin and development of the Tantra itself, as well as of this key figure who meets the impermanent nature of Reality head-on and embodies the tremendous possibilities of change. Look out too for a great introduction about darts!
Labels: engaged buddhism, Free Buddhist Audio, India